Download our free Audit and Compliance App
Somerford have worked diligently with our customers and partners to build a simple yet thorough set of dashboards and searches to represent your data in a format suitable for auditing, now available on Splunkbase.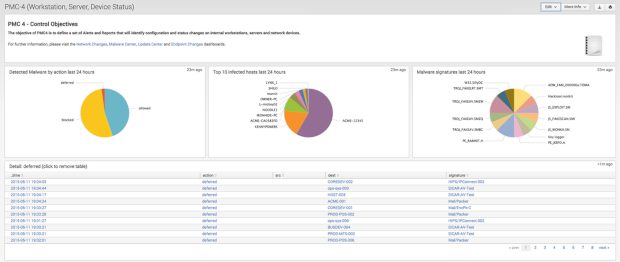 Implementation of Good Practice Guide 13 is a strong recommendation for all HMG ICT Systems and is essentially compulsory for systems that store high impact level data.
CESG Protective Monitoring, also known as Good Practice Guide 13, or GPG13, is a UK government recommended set of people and business processes and technology to improve company risk profiles – a Protective Monitoring solution will provide visibility and an understanding of who is accessing your organisations sensitive data. Implementation of protective monitoring solutions are recommended in a number of regulatory and industry best practices, such as PCI DSS, Cyber Security and SOX. The Audit and Compliance app allows you to meet all these regulations.

App Installation and Support
Application Support Matrix
This application should be compatible with most versions of Splunk 7.x and Splunk 8.x.
| | | |
| --- | --- | --- |
| | | Install as per instructions below |
| | | Install on search heads only |
| | | Install on search heads only |
| | | Not tested, compatibility not guaranteed |
| | | v1.0 has not been vetted for Splunk Cloud |
Download the Somerford Data Audit and Compliance Application by using the download button above.
Install the application:

Go to your apps list in Splunk Web (top left) > Manage Apps > Install app from file, and then upload/install the application.
Alternatively, you can also extract the .tgz package and move the "data_audit_and_compliance_app_for_splunk" folder into your $SPLUNK_HOME/etc/apps folder (Splunk restart required.
Support for this application is provided by Somerford Associates. Please use the contact us section to get in touch with support.
Support is available Monday to Friday, 9AM-5.30PM GMT (excluding bank holidays).
Not sure how to contact us?