Varonis Data Risk Assessment
Determine Data Security Threats with a Comprehensive Free Risk Assessment from Varonis
What's included in a Varonis Risk Assessment?
The Varonis Data Risk Assessment (DRA), offered to commercial businesses and government bodies alike, is designed to pinpoint potential data security threats that may jeopardise an organisation's capacity and productivity. Locate and categorise sensitive and regulated data for heightened awareness, plus rebuff malicious cyberattacks.


Requesting a Varonis DRA gives you full access to Varonis' Data Security Platform, with actionable insights for your most critical data, plus a dedicated analyst to monitor for suspicious behaviour. The report will also include a detailed summary of your data security risks and an executive presentation to review the findings and recommendations.

Once the DRA has been published, concrete steps can then be implemented to prioritise and fix major security risks and compliance issues in your data, such as:
- Global access, stale data, and inconsistent permissions
- Overexposed sensitive data like PII, HIPAA and PCI
- Non-compliant access and authorisation processes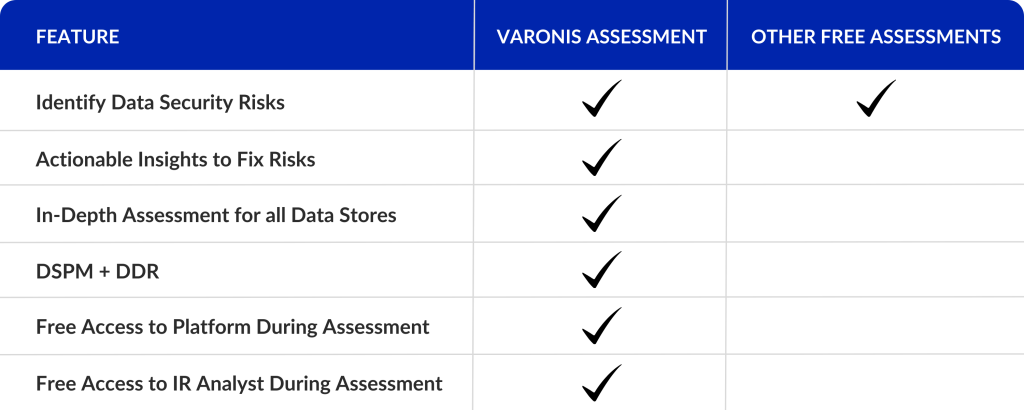 Elevate Your Data Security with Varonis + Microsoft
Uncover the limitations of Microsoft's data security. Varonis simplifies permissions, providing accurate and actionable data classification.

Why Varonis? Varonis boasts an extensive policy library for Microsoft, ensuring high-fidelity results. Easily identify and address security risks down to the file-level.

Explore how Varonis fills the gaps in the Microsoft stack.
Safeguard Your Most Valuable Assets
Experience the speed and efficiency of Varonis' complimentary risk assessment, which can be effortlessly initiated within minutes and provides instant benefits. Within just 24 hours, you'll gain a comprehensive, risk-centric perspective on your most critical data with security expert recommendations.