Somerford are a certified Platinum Partner with Varonis. Varonis is an innovative data security platform that specialises in creating software to manage and protect enterprise data against insider threats, data breaches and cyberattacks.
"The team at Somerford Associates personifies professional excellence and reaching Platinum Partner status is a testament to this. Their technical expertise is second to none, with a deep understanding of the Varonis Data Security Platform and company philosophy. Their team is skilled and passionate about cyber security and they are driven to ensure organisations are secured against both current and emerging challenges."
Data Security and Insider Threat Detection
Varonis gives you a single unified platform to manage risk and protect your most important assets.
Varonis Sample Data Risk Assessment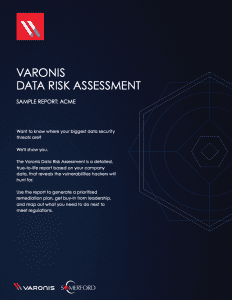 SAMPLE REPORT: ACME
A sample scope of data stores monitored for this report: including data, folders, files, and permissions, user, and group accounts. Risk areas highlighted include overexposed sensitive data, access control issues, and more.
Varonis helps to fight Ransomware and Insider Threats
Ransomware is everywhere, hitting hospitals, Government agencies and businesses. New strains of ransomware can do a lot of damage to an organisation by targeting file shares, where most sensitive information resides and corrupts, deletes or destroys files locally or network shares. Varonis protects, by monitoring,tracking and analysing how users access files and stops ransomware in its tracks.
Security Analytics with Deep Data Context
Varonis is a leader in data security and analytics, specialising in software for data security, governance, compliance, classification and threat analytics.
Confidently answer the question "Is my data safe?" with continuous monitoring and alerting on your core data and systems. Varonis is the only solution that combines data classification and access governance with UEBA, giving our threat models richer context and more accurate alerts. We protect your data wherever it lives.
Get in Touch to Learn More