Somerford are a certified Gold Partner with Varonis. Varonis is an innovative data security platform that specialises in creating software to manage and protect enterprise data against insider threats, data breaches and cyberattacks.
Data Security and Insider Threat Detection
Varonis gives you a single unified platform to manage risk and protect your most important assets.
Prevent malware attacks and insider threats
Keep your environment secure with automation
Security Analytics with Deep Data Context
Varonis is a leader in data security and analytics, specialising in software for data security, governance, compliance, classification and threat analytics.
Confidently answer the question "Is my data safe?" with continuous monitoring and alerting on your core data and systems. Varonis is the only solution that combines data classification and access governance with UEBA, giving our threat models richer context and more accurate alerts. We protect your data wherever it lives.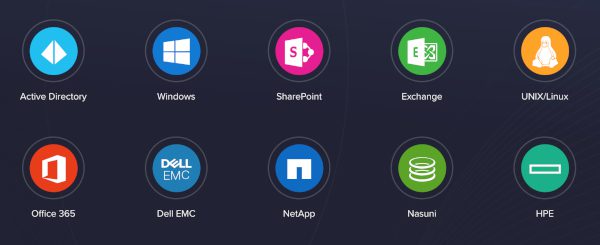 Free
Microsoft Teams

Risk Assessment
Varonis is offering a new Microsoft Teams-focused version of our world-famous free data risk assessment. Our software will crawl and analyze your Office 365 estate and our engineers will give you concrete steps to prioritize and fix major security risks and alert you of common remote work attacks:
Active Directory Dashboards
The Varonis Active Directory dashboards (new in Version 7) are a huge hit with customers: they're a great way to differentiate Varonis and demonstrate the value in protecting Active Directory.

The Active Directory dashboard is now included in all DatAdvantage for Directory Services licenses: current customers, new customers, POCs – everyone can benefit from this new dashboard.

It's got 25 new widgets – highlighting everything from accounts with SPN to accounts trusted for Kerberos delegation – and you can deep dive into each, investigating unusual activity, configurations that are vulnerable to attackers, and more.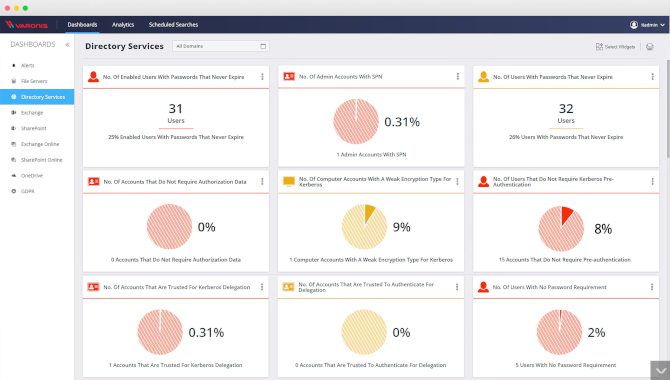 | | | | |
| --- | --- | --- | --- |
| A detailed report based on your company data, analysing risk, identifying strengths and weaknesses – and we'll help you fix real production security issues while we're at it. The data risk assessment will summarise key findings, expose data vulnerabilities, provide a detailed explanation of each finding, and include prioritized remediation recommendations. | Our dedicated engineers will do all the heavy lifting for you: setup, configuration, and analysis – with concrete steps to improve your data security. | Our engineers will collect and analyse the metadata from your email, file systems, and directory services (AD, LDAP, NIS), discover and isolate in-scope infrastructure, and perform capabilities and environmental assessments. We'll build out a custom security assessment designed specifically for you: based on company needs, regulations, and configurations. | We won't slow you or your system down. We can monitor millions of events per day without impacting performance. |
Not sure how to contact us?
Schedule a call with one of our Varonis certified engineers and pre sales team. Or drop us a line if you have any questions.