Somerford are a certified Platinum Partner with Varonis. Varonis is an innovative data security platform that specialises in creating software to manage and protect enterprise data against insider threats, data breaches and cyberattacks.
Data Security and Insider Threat Detection
Varonis gives you a single unified platform to manage risk and protect your most important assets.
Prevent malware attacks and insider threats
Keep your environment secure with automation
Explore Varonis Customer Case Studies
Varonis helps to fight Ransomware and Insider Threats
Ransomware is everywhere, hitting hospitals, Government agencies and businesses. New strains of ransomware can do a lot of damage to an organisation by targeting file shares, where most sensitive information resides and corrupts, deletes or destroys files locally or network shares. Varonis protects, by monitoring,tracking and analysing how users access files and stops ransomware in its tracks.
Security Analytics with Deep Data Context
Varonis is a leader in data security and analytics, specialising in software for data security, governance, compliance, classification and threat analytics.
Confidently answer the question "Is my data safe?" with continuous monitoring and alerting on your core data and systems. Varonis is the only solution that combines data classification and access governance with UEBA, giving our threat models richer context and more accurate alerts. We protect your data wherever it lives.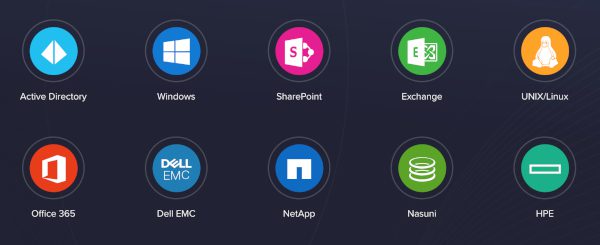 Active Directory Dashboards
The Varonis Active Directory dashboards (new in Version 7) are a huge hit with customers: they're a great way to differentiate Varonis and demonstrate the value in protecting Active Directory.

The Active Directory dashboard is now included in all DatAdvantage for Directory Services licenses: current customers, new customers, POCs – everyone can benefit from this new dashboard.

It's got 25 new widgets – highlighting everything from accounts with SPN to accounts trusted for Kerberos delegation – and you can deep dive into each, investigating unusual activity, configurations that are vulnerable to attackers, and more.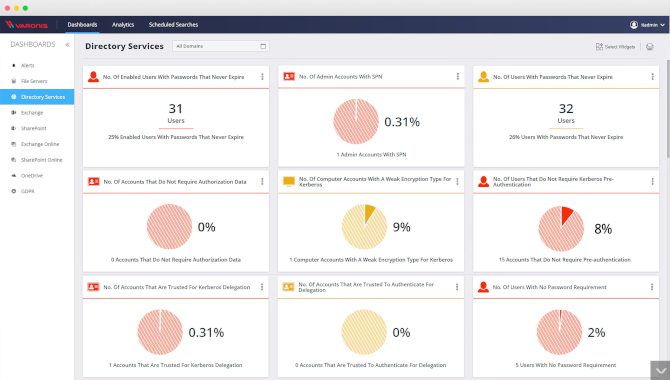 The Varonis Data Security Platform
The Varonis Data Security Platform (DSP) protects enterprise data against insider threats, data breaches and cyberattacks by analysing content, accessibility of data and the behavior of the people and machines that access data to alert on misbehavior, enforce a least privilege model and automate data management functions.
Not sure how to contact us?
Schedule a call with one of our Varonis certified engineers and pre sales team. Or drop us a line if you have any questions.