Innovative and proven solutions


Somerford are a premier partner with SecurityScorecard, focusing on third party management and IT risk management, SecurityScorecard provides a platform designed to rate cybersecurity postures of corporate entities through the scored analysis of cyber threat intelligence signals.
By 2022 Security Ratings will Become as Essential as Credit Ratings
SecurityScorecard allows you to understand the risk of business relationships by asking:
Does the service provider you are considering have a high severity vulnerability?
How does your cybersecurity capability stack up against your competition?
Can you demonstrate to your board and management teams that you are improving your security and compliance posture?
Somerford Associates are a premier SecurityScorecard partner
We have a team of security professionals to support you. Somerford Associates as an SecurityScorecard partner are able to demonstrate the value in implementing risk management. 
SecurityScorecard and Splunk Integration
Find out how SecurityScorecard integrates with Splunk
SecurityScorecard not only provide a score but also give you the tools and intelligence to help you improve the cyberhealth of your third parties/vendors.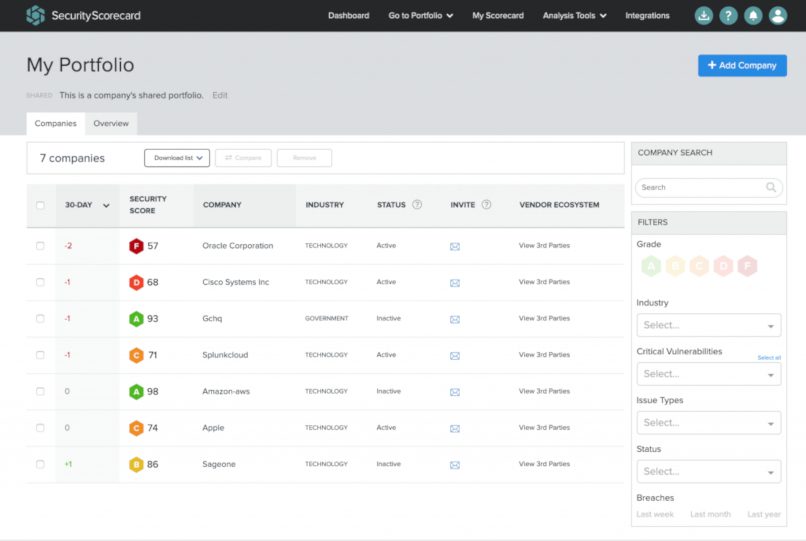 SecurityScorecard makes it easy to add vendors or partners which in turn gives you visibility and continuous monitoring of their security ratings. The platform can generate recommended action plans to assist customers and their vendors remediate issues and improve their scores. You can also view breach insights and a clear record of issues that have impacted scores over time. Additional tools help organisations enhance their security controls whilst ensuring continuous compliance with regulatory standards and frameworks.
Security ratings are only as good as the data and attribution that sits behind them. The ThreatMarket data engine uses sophisticated reconnaissance capabilities to build a comprehensive and relevant security intelligence database. Advanced machine learning algorithms are used to reliably predict risk, precisely attribute findings and accurately calculate a security score.
Data and analytics are a fundamental part of the platform.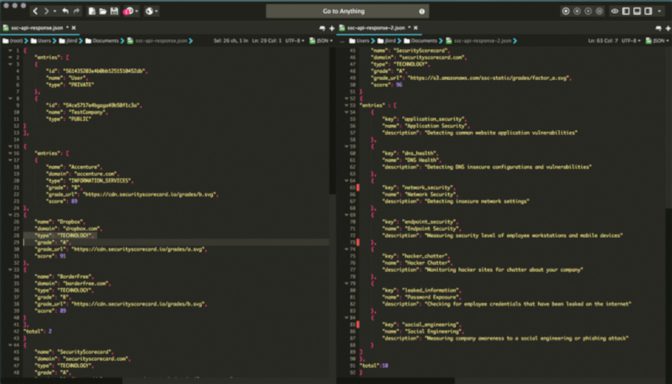 SecurityScorecard have a sophisticated data collection and attribution capability. They collect data on hundreds of thousands of entities worldwide and have forward-based threat intelligence capabilities delivered through their global sensor network. Their data science and machine learning capabilities turn telemetry into intelligence that can be used to identify risks and prevent exploits. Their API Connectors make this data consumable by customers.
Companies with a D or F are 5.4 times more likely to be breached that those with an A or B rating
Any company can access their security ratings profile at no cost. Get your security rating today:
Get in touch with our team
Schedule a call with one of our SecurityScorecard certified engineers and pre sales team. Or drop us a line if you have any questions.