Revolutionary Data Storage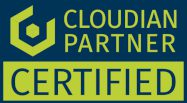 Somerford partner with Cloudian, who revolutionise data storage by bringing object storage to the enterprise. Unlike the expensive, complex and proprietary object storage which came before it, Cloudian's technology allows all sizes and types of users to realise the benefits of object storage in their own data centres.
Conquer the Unstructured Data Challenge
Data centre managers, broadcasters, researchers and software developers need solutions to help them contend with the explosive growth in unstructured data. All industries have a rapid increase of data, creating issues around storage costs and complexity. Cloudian offers an affordable, highly-scalable, easy-to-use storage system.
Cloudian have launched Cloudian Hyperfile which will revolutionise enterprise storage, the industry's first object storage-based file solution to combine full enterprise-class Network Attached Storage (NAS) feature set and scale-out performance, saving companies 70% TCO vs traditional NAS.
Reduce Splunk storage costs by 70%, increase scalability to Exabytes
Cloudian Hyperstore and Splunk SmartStore reduce big data storage costs by 70% while increasing storage scalability. Together they provide an exabyte-scalable storage pool that is separate from your Splunk indexers.
With Smartstore, Splunk Indexers retain data only in hot buckets that contain newly indexed data. Older data resides in the warm buckets and is stored within the scalable and highly cost-effective Cloudian cluster. Further information here.
Cloudian provide in-depth demonstrations which allow you to see their products in action. They can offer online or on-site demos, with various deployment options. You can book on to a Cloudian demonstration by contacting us below.