Splunk: Bringing Data to Everything
25/10/19 – Author: Grace Maher – Certified Splunk Consultant at Somerford Associates
Over the past two years alone, 90 percent of all data was generated – we are living in an age where now more than ever before, harnessing this data and using it to generate better insight is imperative to the growth of businesses. The data landscape has grown vastly due to the increase in IoT devices and more trust in IT to help us in our daily lives, from the use of your smartphones to unlock our doors, start our washing machine, or even let us know when our dinner is burning. The average person is expected to interact with a connected device more than 5000 times a day by 2025, compared to 800 times a day currently – and so the data landscape will continue to grow at an exponential rate, providing us more and more insight into users, customers and employees daily lives and behaviours. 
This growth of data also marks a change in the data landscape, moving away from static files to real time events. Splunk's mission statement has always been to make machine data usable, accessible and valuable, and now with so much real-time data to take advantage of, it has never been a better time to reap the benefits of having one single pane of glass view.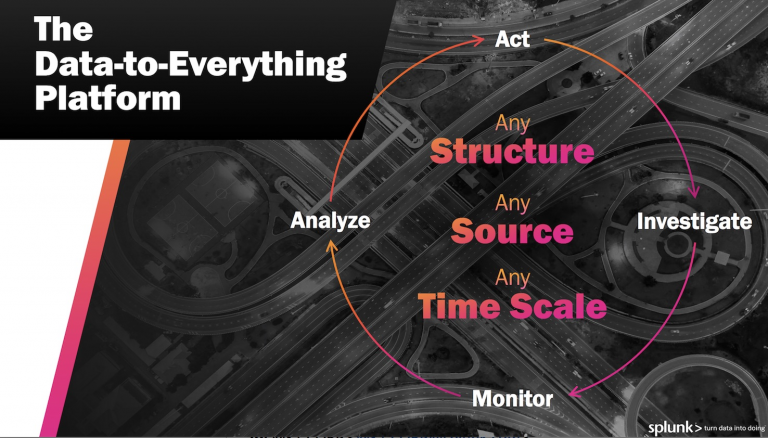 Splunk is the world's first Data-to-Everything platform, meaning that data can enhance everything an organisation does by utilising any data, regardless of its structure, location, or method.  Businesses are able to ask the questions that they want from their data, rather than a set of predefined requirements someone on the outside assumes you would want to monitor, as well as having out of the box dashboards, reports and alerts to utilise when required. 
Whilst Splunk can ingest any human readable data, it's focus is singular, to provide the four essential steps of managing and leveraging data assets: investigate, monitor, analyse and act. By centrally collecting all data across any tier of your infrastructure into one location, and correlating this with third party data feeds such as IoT devices, social media and even the weather, you can easily answer any question in real time. By leveraging other systems such as service desk ticketing systems and automation platforms, an entirely proactive IT approach can be reached and real-time business insight gained. 
Being the right platform for all data means that the pricing model needs to also work for all users and customers, and so Splunk have evolved their pricing models to make it easier to bring data to everything. With tiered predictive pricing programs that scale as your data grows, to rapid adoption packages, all organisations now have the flexibility to choose a pricing matrix that best suits their individual needs and scale as they explore new opportunities to turn data into action.

Essentially, Splunk is making it easy to search all your data, whether its in the Splunk index, or accessed where it lives via Splunk technology, with a range of pricing and adoption models to suit customers from 1GB to 1TB. Now more than ever before it is easier and simpler to have a holistic IT approach with scale, to turn your data into dreams.
Find out more about Splunk; register for our workshops