Netskope Home Workers | Private Access
Author: Dan Reeder
Release Date: 07/09/21
While remote working is the norm for many businesses, over the last 18 months others have had to rethink the ways in which they work and adapt to running their workforce remotely. A huge part of this is not only access to vital resources and systems but also how to do this securely.
It is no surprise that we have seen a surge in VPN usage in recent months. They are an easy way to set up an encrypted point-to-point connection over the public internet. Typically this would be from home or maybe from a coffee shop into your corporate network, allowing you to appear as if you were sitting at your desk at work, using all the resources you would normally use there…
But do we want it to be that easy for malicious actors as well?
Somerford Blog How do Okta & Varonis work together? Author: Grace Maher & Charlotte Fletcher Release Date: 21/10/21 Nearly 44% of cloud privileges are misconfigured.
Read More »
What is Netskope Private Access and how does it shape up against a traditional VPN?
As mentioned above, a point-to-point solution is traditionally used. In our modern world a business may have several different networks, spanning different data centres, in addition to many virtual networks in the cloud.

Now we consider point-to-multipoint. With Netskope Private Access (NPA) you have this big cloud (NewEdge) where all the traffic starts and finds the fastest path to get where you want to go! Netskope launched NPA to offer secure access in a simple and fast way to all applications, within a single platform. Private, Software-as-a-Service (SaaS) and Web.

Additionally, when using a VPN it is difficult to limit lateral movement within a network, whereas a zero trust solution will allow you to provide application-level policies. You don't get access to one app just because you have been granted access into another. Access to private applications isn't only a network problem, but an end user access issue too. There should be a unified solution for SaaS, Web, and Private.

Netskope provides a globally available security cloud for securing and managing remote workers' access to websites and cloud applications. As well as this, Netskope seamlessly and securely connects remote workers to their private applications in the data center or public cloud using Zero Trust Network Access. 
Overall, what can Netskope offer?
1. Visibility
Understand the websites and cloud applications being accessed from outside the network and the associated risks.
2. User Experience
Enforce security policies for cloud and web, and optimally connect to private applications. Guarantee that employees' experience is seamless and has low latency connectivity wherever they are in the world.
3. Granular DLP policies
Use industry standard regulatory profiles, or create custom DLP policies, to prevent sensitive data from being uploaded by remote workers to cloud applications or websites.
4. Protect remote workers
Detect threats hosted by malicious websites or hosted within cloud environments. Mitigate against insider threats, alert on account compromise and highlight anomalous user behaviour.
5. Adopt zero trust network security
Provide direct, seamless and secure remote access to applications in public cloud environments or data centres, without unnecessary exposure to the internet.
6. Consolidate security
Use the fully integrated Netskope Next Generation Secure Web Gateway (NG SWG) and Netskope Private Access (NPA) products to deliver a modern, cloud-based security platform to simplify deployment, unify protection and access policies.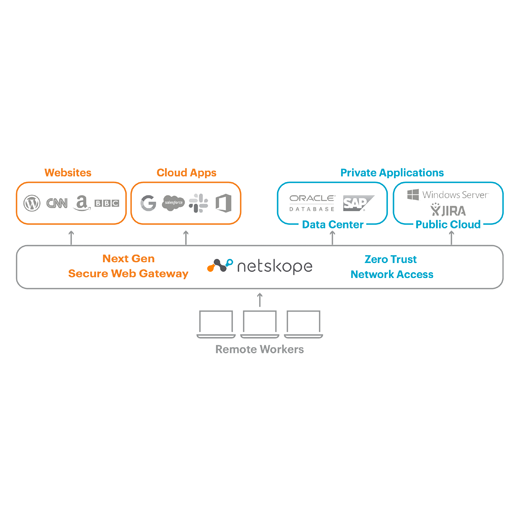 Learn more about how Netskope can work for you
Join us on our Netskope hands on workshops or webinars