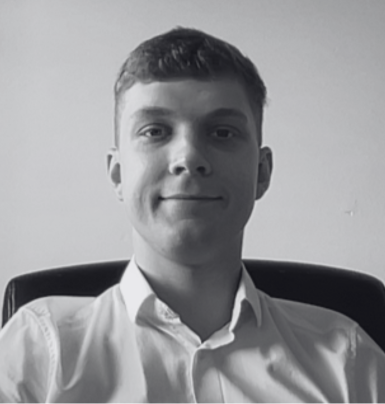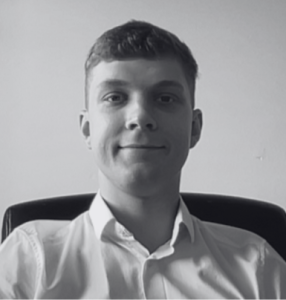 KnowBe4 Security Awareness Training:
A Complete Life Cycle Overview
Author: Jack Travis
Release Date: 14/06/2023
Cybersecurity is a rapidly growing issue in today's world. As cyber-attacks and data breaches become increasingly frequent each day, it is necessary for individuals and organisations to protect themselves from these threats. Although many organisations invest in security technology to safeguard their assets, employees still remain one of the most significant vulnerabilities.
KnowBe4 is a leading provider of security awareness training and simulated phishing tests, helping manage the IT security problems of social engineering, phishing, and ransomware attacks. The training is used by organisations to analyse and improve their current security posture.
An effective security awareness training program educates and prepares individuals to identify and detect malicious cyber attacks, before it is too late.
KnowBe4 is not just a tool for developing good security awareness in an organisation, it is a cycle of training that develops habits to understand the various cyber attacks, and how to identify them. Developing a constant everyday routine that enables someone to recognise threats is crucial for avoiding damages to an organisation's day-to-day operations.
In order to maximise the effectiveness of KnowBe4's training, it must be continually used in a cycle of assessing and educating individuals creating good security habits surrounding cyber security and recognising malicious threats.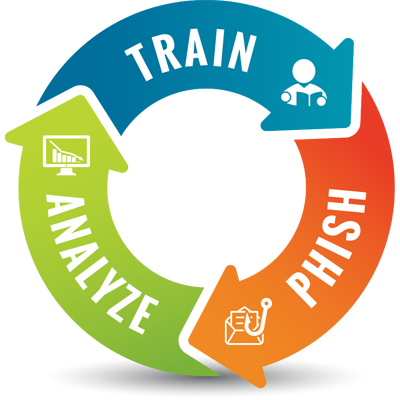 What are the stages of Security Awareness Training?
KnowBe4's Security Awareness Training can be summarised into two stages, the Assessment stage and the Training stage.
Although utilising the stages once would be beneficial to any organisation, the process becomes increasingly more effective when they are used repeatedly, creating a cycle of improving and reinforcing employees' security behaviour and knowledge.
There are two types of assessments that KnowBe4 currently offer: 
Security Awareness Proficiency Assessment (SAPA) 

Security Culture Survey (SCS). 
These assessments are designed to discover employees' knowledge of cybersecurity best practices and identify areas where additional training may be required.
Security Awareness Proficiency Assessment (SAPA)
The SAPA is a scientifically-based assessment that aims to assess the user's susceptibility to cyber attacks in relation to your organisation's specific cyber security needs. By identifying gaps in individual users' knowledge over time, the assessment can help tailor and target the correct training campaigns for your organisation. The SAPA is a comprehensive assessment that covers a wide range of topics such as phishing, social engineering, password management, and physical security.
The assessment contains 23 random questions about security awareness from a large question bank to ensure the assessment is unique and answers cannot be shared between employees. SAPA is measured across seven knowledge areas, including: Email Security, Incident Reporting, Internet Use, Mobile Devices, Passwords and Authentication, Security Awareness, and Social Media Use.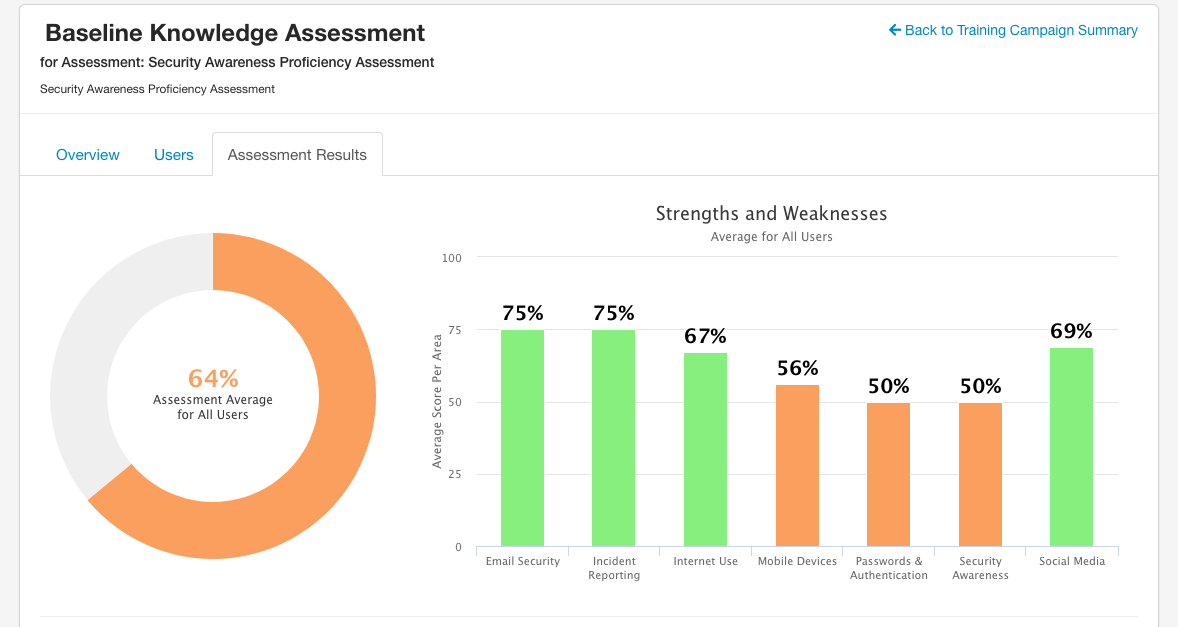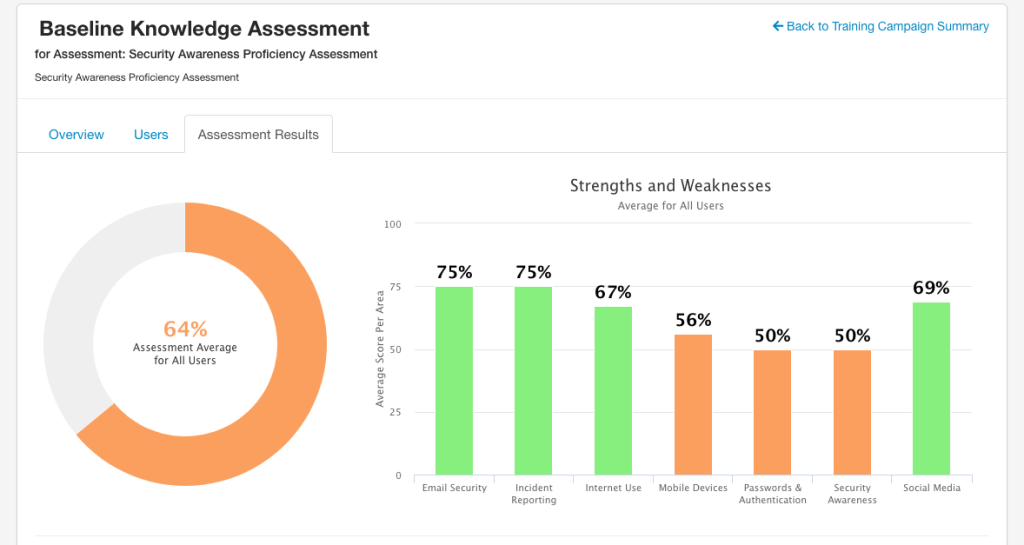 Security Culture Survey (SCS)
Security culture can be defined as the ideas, customs and social behaviours that impact the security of your organisation. The KnowBe4's SCS is a comprehensive survey that allows you to measure the strengths and weaknesses of security culture within an organisation. The SCS follows a strict scientific procedure repeated over time, ensuring that the measurements are valid and reliable.
The SCS measures seven dimensions of security culture which include: Attitudes, Behaviour, Cognition, Communication, Compliance, Norms, Responsibilities.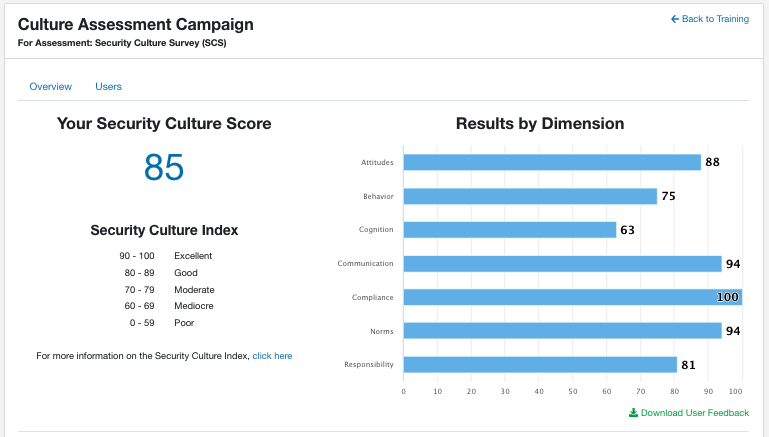 KnowBe4 also offers SCS Benchmarking, which allows organisations to compare their score against other organisations within the same industry, which can be utilised to compare how your culture score changes in relation to your specific industry.
These assessments can be used to gain a baseline view of your organisation's current security environment. After acquiring the baseline results, organisations can then tailor the training that is required for the specific areas that are lower than others. Once this training has been completed, assessments can be reused again to re-evaluate employees, assessing the effectiveness of the training and if any areas still need additional training.
The training stage involves educating individuals and employees with the knowledge and skills needed to identify and prevent security threats. KnowBe4 offers two main types of training: Simulated Phishing Attacks and Training Modules.
Simulated Phishing Attacks
Simulated phishing attacks are mock phishing attacks that are designed to test an organisation's security awareness. These attacks involve sending fake phishing emails to employees to see how many of them fall victim to the attack.
These attacks are useful in terms of real-world threats because they provide employees with hands-on experience in identifying and responding to phishing attacks. By simulating a real-world attack, employees can learn to recognise the signs of a phishing email and be able to avoid them when it is a real attack. Simulated phishing attacks can help organisations identify areas where additional training may be needed. If a large number of employees fall for a specific type of simulated phishing attack, it may indicate that more training is required in that area.
KnowBe4's platform offers a wide range of training modules that cover topics such as phishing, social engineering, password management, and physical security. The ModStore contains all of the training content that KnowBe4 offers. It includes 1000+ interactive modules, videos, games, posters, and newsletters.
The KnowBe4 training is developed to be both humorous and entertaining, making it engaging so that the user is more likely to enjoy it and retain the information. In addition, KnowBe4 utilises small chunks of information for training, instead of massive pieces of content, as it is more manageable and simplified for the individual or employee to understand.
Automated Security Awareness Program
The ASAP is designed to deliver automatic security awareness training to employees continuously. This program utilises automation to deliver training modules to employees based on specific factors, such as their job or department. ASAP includes actionable tasks, helpful tips, training content suggestions, and a task management calendar.

More information about the Automated Awareness Security Program can be found here.
The KnowBe4 security awareness training life cycle provides a comprehensive approach to educate and train employees on best security practices. By continuously assessing and training, organisations can ensure that their employees are equipped with the latest knowledge and skills needed to identify and prevent security risks. With the right security training in place, organisations can reduce the threat of data breaches and other security incidents, safeguarding both their own assets and those of their customers or clients.
By implementing the KnowBe4 security awareness training lifecycle, organisations can create a culture of security awareness that benefits everyone involved.
More Resources like this one:
Somerford's Added Value Explained
Partner & Customer Testimonials |
Business Value Panel Discussion
How to Stop Cloud Phishing Attacks—
Ft. Netskope, Splunk & KnowBe4 Interoperability
(Demo & Tutorial)
Get in Touch
Contact Jack or the rest of our pre-sales team through our contact form.