Cloud Ready Zero Trust Privilege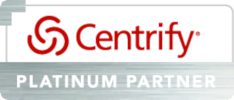 Somerford are a certified Platinum Partner with Centrify, providing Privileged Access Management (PAM) by delivering cloud-ready Zero Trust Privilege to secure modern enterprises. Somerford have a team of certified engineers for professional services and support.
Users have too many passwords and too much privilege, attributing to a critical security risk
Centrify's Zero Trust Privilege model: start from a basis of an untrustworthy connection and build confidence in a users authentication and access requests on a number of baseline factors.
Somerford Associates are a Centrify Partner
We have a team of security professionals to support you. 
Centrify's Zero Trust Privilege steps
Verify who, by leveraging enterprise directories services and performing adaptive MFA
Contextualise request by ensuring it meets a requirement for access and include workflow to grant it
Secure the administrative environment by providing secure remote access and reducing the requirement of a VPN
Grant least privilege, provide just in time and just enough privilege to target resources held within access zones
Throughout the whole process audit everything and utilise adaptive risk based controls, by providing session capture and integration with SIEM technologies such as Splunk.
| | |
| --- | --- |
| | Broker authentication and consolidate identities, leveraging enterprise authentication services. |
| Adaptive Multi-Factor Authentication (MFA) for Privileged Access | Risk based MFA policies reducing the burden on users for everyday tasks but increasing the security in high risk access requests. |
| | Grant just enough and just in time privilege across Windows, Linux and UNIX systems. |
| Shared Password Management | Vault, rotate and provide seamless access to shared accounts. |
| Privileged Access Request | Govern access to privileged accounts and privileged roles with approval workflows. |
| | Establish privileged sessions to targeted infrastructure without the requirement of a VPN. |
| Session Recording and Monitoring | Monitor and record privileged sessions |
| | Enforce accountability for privileged activity and prove compliance |
Try a free 30 day Centrify trial
Get in touch with our team
Schedule a call with one of our Centrify certified engineers and pre sales team, or drop us a line if you have any questions.